About Church In The House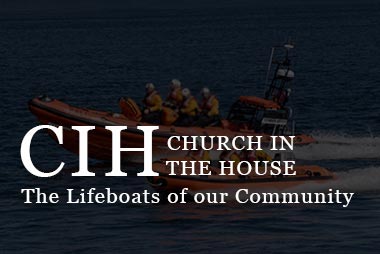 Church in the House is a small group of Latter Rain Assembly members and friends who are building lasting relationship, caring for one another and growing in Christ likeness. It is the coming together of two or more house holds in fellowship. The primary function is edification, evangelism, sharing and caring, nurturing, training and discipling.
"Now the Lord spoke to Moses and Aaron in the land of Egypt, …speak to all the congregation of Israel, saying: 'On the tenth day of this month every man shall take for himself a lamb, according to the house of his father, a lamb for a household. And if the household is too small for the lamb, let him and his neighbor next to his house take it according to the number of the persons …" Exodus 12: 1 – 4
"And the following day they entered Caesarea. Now Cornelius was waiting for them, and had called together his relatives and close friends" Acts 10: 24
Church in the House is part of the recognizable governmental structure of the Latter Rain Assembly where members living within the same community gather together for fellowship every Saturday between the hours of 6.00pm and 7.00pm. It is the repackaging of the mega church into manageable units of about 15 persons.
The Latter Rain Assembly is compared to a big ship, while the Church in the House centers is small lifeboats attached to the big ship. A big ship without smaller lifeboats is a disaster going somewhere to happen. For when tragedy hits, all will be lost. However, where there are smaller lifeboats, these are used to ferry people safely to the shores. Storm is normal in life. In the parable of the two builders in Luke 6:46-49, Jesus said "when" and not "if". Either you dig-deep to lay your foundation, or you build your own house on the sand, flood will come. It is therefore wise to prepare for a better tomorrow, today.
To find a location near you today, please CLICK HERE
The Pattern
This pattern was revealed to His servant, Dr. Tunde Bakare and if followed properly and prayerfully, there will be a mass harvest of souls. It works anywhere, any day and will bring about an incredible growth.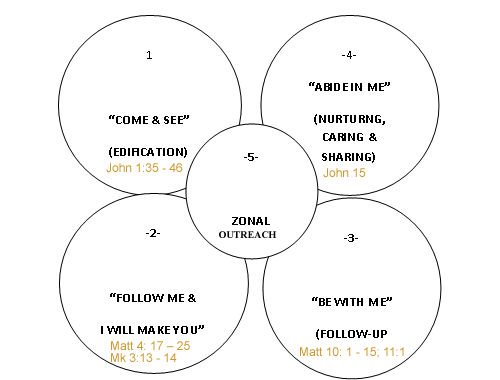 Each circle represents each week of a month. Since the Church in the House meets on Saturdays, each week is represented by that Saturday.
The circle labelled (1) represents the first Saturday of the month, likewise 2, 3 and 4 in that order. The circle in the middle labelled 5 is the fifth Saturday of the month and this only applies to the months with five Saturdays and there are only four of such in every year.
1. The first Saturday of the month is for "Come and See"/edification, in which the members will be told 'what' and 'why' of their gathering. In John 1:35-46, we see what transpired between Jesus and His earliest disciples. In verse 39, Jesus invited them "Come and see". What did they see? What they saw was strong enough for one to go and call his brother. It was not Jesus who sent for Peter, Andrew, his brother found something he couldn't keep to himself.
By the time we get to verse 46 of John 1, we see Philip extending the same invitation "Come and see" to Nathaniel; this is what happens when you have a true rebirth. we gather together, we celebrate that we belong to Christ in worship and we make it known that we have no other God, so anybody that comes close to us immediately knows where we stand.
John identified Jesus (John 1:29). Two of his disciples left him and followed Jesus. On getting to Him, Jesus turned back and asked what do you seek? So, the problem is "what", that is what is driving people. They want what He carries, His loaves and fishes (miracles, healing, blessings, etc.) and not His person. But people need to be taught not only "WHAT" but also "WHY". This is done on the first Saturday of the month during edification (i. e. intensive study on not only 'what' about Jesus but also 'why'.
2. The second Saturday of the month is for evangelism or what I called "Follow Me and I Will Make You". The leader takes his band out to show them what he is doing and how he is doing it (Matt. 4:17-25).
You will recall that these people had been with Jesus and gone through 'Come and see', He now said to them, "Follow me and I will make you fishers of men." They already understood fishing principles that which they have learnt in the natural, the Lord now takes into the realm of the spirit; they will be catching men for Him. The leaders must have marked out the areas to go, group the people in twos and lead them out. They are not too far from one another and from the leader as well, in case there is any issue that requires the attention of others or/and the leader.
3. The third Saturday of the month is for "Be with Me", this is "Follow-up Evangelism". In the last model i. e. second Saturday, Jesus was involved, but this time around, He sent them out to the lost sheep of Israel and into the cities that were not their own while He went to preach in their own cities (Matt. 11:1).
In this model, Jesus was specific as per the areas the disciples were to go, who to meet, how to go and the message to preach (Matt. 10:1-15). On this Saturday, the leader stay back at the CIH Centre while the members go to the people and place they went the previous week (during evangelism) to encourage them and invite them for fellowship at their meeting place (i. e. Church in the House center) for discipling. This is follow-up evangelism, just as when Jesus said be with me so that I can be sending you out (Mk. 3:13-15).
4. The fourth Saturday of the month is Nurturing, Caring and sharing i. e. "Abide in Me". Here, you are digging deep to ensure that the root grows downward so that it can bear fruits upward. Abiding in Jesus, then you go and make disciples. John 15: 1 – 8. On this day, we all come together at the Church in the House center to care one for another, share fellowship, and break bread.
5. The fifth circle in the middle is labelled "Zonal Outreach". These are for the months with five Saturdays and usually, there are four of such in every year. On these days one or more Zones comprising several Church in the House centers can team up to do what we called Zonal Outreach. This is the bombardment of a particular community with the gospel of the Lord Jesus Christ for a mighty harvest of souls.
Download Edification Material
CHURCH-IN-THE-HOUSE EDIFICATION MANUAL- JULY 8, 2017
THEME: OUR YEAR OF ALL-SUFFICIENCY
TOPIC: WE ARE 'SHAPED' FOR SERVICE
TEXT: ROM.8:28-30
Having learnt that Holy Spirit Empowerment is the impartation of divine energy that God gave us to accomplish our divine purpose, what then is our Assignment? It is Soul Winning, aimed at Multiplication Revival with the expected balance of Discipleship in mind. With the lost now saved and sanctified, and the saints equipped and empowered, to fulfil of the ministry of the saints (Eph.4:11&12), what next? It is now time to reach and impact the nations of the world, "going public with our faith". A place of assignment is a place of strength- provision and protection.
POINTS TO PONDER/INTERACTIVE SESSION
1. God created us with abilities while our education and environment modify it. But God will not ask what our environment did to us but what we did in response. Environment is influential but we are to influence it. Has God's kingdom really felt your impact since you gave your life to Christ? How?
2. We are called to serve; we are made for a purpose, already marked out for the saints of God- Rom.8:28-30. We are saved to save others within and outside the church. And remember, we cannot carry it out in the flesh. If truly you are filled with the Holy Spirit, you will be consumed with the zeal to be fruitful and ensuring that the fruits abide- John 15:1-5. How true is this line of thought in our experiences? Explain?
3. We are Saved and 'SHAPED' for Ministry with:
S – SPIRITUAL GIFT: We all have peculiar gifts for the benefits of all (1Cor.12:4)
H – HEART: "…Your heart affects everything you do." (Prov.4:23 (NLT)
A – ABILITY: The best ability for service is God-ability (Ex.36:1). Have you any skill?
P – PERSONALITY: Character is the stability of the anointing (1Tim.3:1-7 (NLT)
E – EXPERIENCE: All you have gone through are relevant to your service (1Jn.1:1-3)
4. Concerning this service, we are CREATED (Eph.2:10), SAVED (2Tim.1:8 & 9), CALLED (Rom.8:28), GIFTED (1Pet.4:10), AUTHORISED and EMPOWERED (Luke 10:18 & 19), COMMANDED (Josh.1:9), PREPARED (2Tim.2:20&21), NEEDED (2Tim.4:9-11), ACCOUNTABLE (1Cor.4:2) and REWARDED (Col.3:23&24).
If you excel in these, then you can go to a higher call of Fixing and Discipling the Nation.
In view of the above, how is your 'SHAPE', Complete or Incomplete?
SOUL WINNING STATUS MONITOR