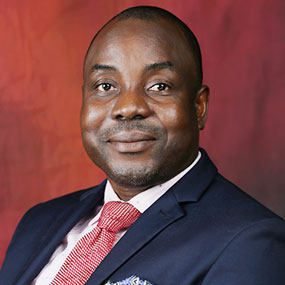 Adewale Laseinde
Director Senate Affairs
My name is Adewale Laseinde, a legal practitioner of more than 27 years standing at the Bar. I attended the University of Ife, Ile-Ife where I obtained my Bachelors of Law LL.B Degree with Honours and attended the Nigerian Law School in Victoria Island, Lagos.
I'm a member of the Nigerian Bar Association, International Bar Association, American Bar Association Section on International Law and the Negotiation and Conflict Management Group (NCMG) as well as the Principal Counsel of the law firm - Adewale Laseinde & Company.
God got my full attention for the first time in 1996 while I was in Saudi Arabia, as there were no distractions and I was so broke. I read the Bible from Genesis to Revelation several times and I heard His voice clearly when I got to Isaiah 48: 17-18:
"Thus says the Lord, your Redeemer, The Holy One of Israel: I am the Lord your God, who teaches you to profit, who leads you by the way you should go. Oh that you had heeded My commandments! Then your peace would have been like a river, And your righteousness like the waves of the sea." In the NIV, which I had at that time, it read 'I am the Lord who teaches you what is best for you…' I broke down completely and rededicated my life back to God. God's love is tough. Since then, there's been no turning back.
I joined the Latter Rain Assembly in 2000, became a chartered member in 2002 and a Workforce member in 2003. As a Track Leader in Latter rain Assembly, and subsequently the Head of the Legal Department, I have the privilege to define and articulate the vision and mission of the legal department and to codify our guidelines for operational efficiency.
I am married to Abiola Laseinde and blessed with two lovely boys David and Daniel.
The only thing fascinating about life is Jesus. Christ Himself is Life. John 1:4 says, "In Him was life and the life was the light of men". 1 John 5: 11 – "He who has the Son has life; he who does not have the Son of God does not have life." Galatians 2: 20 – "I have been crucified with Christ, it is no longer I who live, but Christ lives in me; and the life which I now live in the flesh I live by faith in the Son of God, who loved me and gave Himself for me". There is no life outside of Jesus Christ.
We are all living in a fallen world because Satan has been chased from heaven to the earth. We need an anchor in the world we live in and Jesus is that anchor. God is good. God is great. God is faithful. God is love. He is the Almighty. He is the Father of all; His family in heaven and on earth is named after Him. He is my Father.