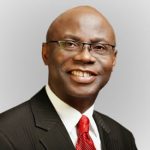 Pastor Tunde Bakare
March 11, 2020
Angels of Mercy, A Unique Class of Destiny Helpers II
But for the role of the angel of mercy and helper of destiny in the life of David, he could have been consumed by the volcanic eruption of god's wrath. In this second part in the Angels of Mercy series, we go over 8 vital lessons in the story of David, Bathsheba and Uriah.
—
Subscribe to the latest sermons: http://bit.ly/2rwfmnT
A governmental church, an authoritative and powerful institution, generating solutions, influencing policies and providing clarity. This is the vision of The Citadel Global Community Church, led by Pastor 'Tunde Bakare. Join us LIVE on Sundays at 8:00 AM & 11:00 AM [WAT] also on Wednesday for our City Impact Bible Study starting at 6:00 PM [WAT]. Be sure to also connect with us on all our social media platforms for more on CGCC @TheCitadelGCC.
—
Stay Connected
Website: http://bit.ly/2IsiUh0
CGCC Facebook: http://bit.ly/35NIyoL
CGCC Instagram: http://bit.ly/2Y2uvcp
CGCC Twitter: http://bit.ly/35POrld
CGCC Podcast: http://bit.ly/2Utayg4